The Dream to Reality
This is the story of a boyhood dream, through persistence, and an endless, tireless effort to make the dream a reality. Through the obstacles and barriers, through the non-believers and the people who have helped this become a reality, I look back today and realize that more than two thirds of my life have gone into making this dream, real. I would encourage anybody who has a picture in their mind of what they want to just begin, simply begin. Start small, and the failures are small, but you learn from each failure. Write a plan even if it doesn't reflect exactly what you want, it can be changed. My dream has been with me since I was in my single digits of age. I wanted my own shop, just like Mr. Braley.
Somewhere near the age of seven (1972-73) I was intrigued by a small shop across the street from my house in Wareham, MA. , on Gibbs Ave. The shop was Braley's Machine, it is long gone but during my childhood I would sit in the window of this little building and watch what I thought at the time was magic. Mr. Braley would let me sit in the window as long as I wanted, and he would tell me what he was doing as he did it. It never made any sense to me then, but some of the information stayed with me. I remember some of this experience like it happened yesterday. Some of the things I remember most are the smell of the shop, what the shop looked like; Mr.Braley's unending patience, and his intrigue with my interest. On one occasion, just for a few moments, he put a pair of safety glasses on me, and while standing right next to me, he let me turn the handle on a Bridgeport mill. He had to put a small box on the floor so I could see the table and the cutter. Going to this window was like looking into the future for me, it captured my imagination so completely that it influenced the direction of my life and I did not know at the time that the caring nature of an elderly man who noticed a little boy interested in a trade that the elderly man loved, the willingness of this elderly man to take the time to let this little boy experience if even for only just a few moments, what it was like to run a machine what an impact it would have on this little boy's life, who knew.
That was my first experience with manufacturing, and the metal industry. I have had many influences since then and continue to have them. Influence in my experience is directly related to observation. Some of the other influences in my life have been my dad, a plant engineer for Haskon or (Hercules Inc.) in Taunton, MA. when I was just a child. He would take me to work on a Saturday when a babysitter was not available. I just loved doing that and would look forward to these experiences whenever they would arrive. My Grandfather was a big influence, he was an accomplished welder, and he did most of the first neon signs in Boston. His biggest claim to fame while working at C & I Brinks sign company in Quincy, MA, was all of the welding that was done on the CITGO sign (www.citgo.com/About_CITGO/boston_sign/boston_sign.asp) was completed by him and his brothers. My Uncle Vin was a machinist at Merriman Brothers in Hingham for thirty Years; he too was an influence. My mom was constantly telling me to pursue my dream. Another local business in Wareham that had a significant impact on me as a child was the Tremont Nail Factory (www.tremontnail.com). I had a Boston globe paper route (www.boston.com) that led past this building every morning. The building had these large street level windows that would be left open in the summer time. As I finished my route I would go back and again sit in the window and watch all of the men and machines work in harmony. This factory at the time had all belt driven machinery, and it was very noisy. Years earlier the shop was run on waterpower from a water wheel. The water from Tremont pond would flow into the wheel turning all of the belts in the building. This is the oldest operating manufacturing plant in the country.
Before long I started high school in Wareham, but had the desire to attend Uppercape Regional Technical School. The year I was to attend, the machine shop program was canceled. I attended Wareham High school until the tenth grade, then my family moved to Braintree, MA. At this Point I started school at Blue Hills Regional Technical School (www.bluehills.org), in the machine shop program. Graduating from the program and high school in 1983. Before leaving high school I began a work-study program at Star Tool & Die in Canton, MA. Charlie MacElaney owned and operated this company. I spent four and half years at Star fulfilling a four-year apprenticeship program. Shortly after I left Star Tool & Die I began to work at Electroswitch in Weymouth, MA (www.electroswitch.com). I started my career there in May of 1987 in the Tool & Die room, and worked there for four years. Electroswitch offered me the position of Maintenance Supervisor, in 1991 and I took it. Electroswitch provided me with opportunities I would not have had if I were working somewhere else. I observed a company from a different perspective at this point, and began to be intrigued by the business side of the dream. An area that did not exist, until I began see the side of a business from a Maintenance Supervisors perspective.
By this time I had acquired a few pieces of machinery and stored them in friends garages, still pursuing my dream. I kept working and saving as much money as I could to accommodate my dream and life goals. In 1992 I met my wife Meg. Prior to us getting married I explained my goal of starting my own company and she explained her dreams and aspirations. We both wanted a family, and a home, children, and really wanted my dream to become our dream. We were married in 1994 found a house in Middleboro, MA., that would accommodate our desires for a small shop and a home that was at least comfortable for the both of us.
In June of 1997 we purchased fifteen Summer St. Middleboro, MA. The property has a nice antique home on it and a 2500sq.' space building for the shop.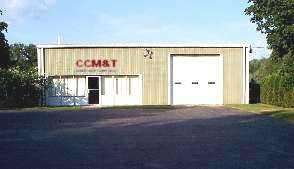 After we purchased the home we immediately began work on getting the property the necessary permitting for the shop. Prior to the purchase we made a list of all of the things we needed to do to actually make the shop a reality. The following list of issues we needed to accomplish in order to establish Cranberry Country Machine & Tool, Inc. at fifteen Summer St. Middleboro, MA. . I included a short explanation of each topic; most of the topics were being worked on concurrently over a two and a half-year period.
Next to the building was a five thousand-gallon oil tank that needed to be removed. The tank was used as a storage cell for diesel fuel from the former business Warrentown Transportation. Included in the removal were a large cement bunker and a wooden structure covering the tank and set up. After all of the items were removed we filled in the hole with loom and planted grass.
We moved all of the equipment I had stored over the years in people's garages into the new home at 15 Summer St.. This involved hiring a rigger and the rental of a massive forklift.
We had to have the property surveyed by a civil engineering firm to confirm all boundary points.
We went through the official town meeting process to get a business permit for the location. We hired a lawyer to assist us in this process. After two town meetings we got the permit. With the permit came a few conditions and requests from the town to accommodate some of our neighbors concerns. The most visible was a tree barrier between our property and the neighbors. This involved planting forty-four six-foot aborvittee trees along the property line. We feel that the trees have provided us with some privacy and have enhanced the appearance of the property. Included in this process was the permit process for a company sign. We designed a sign, and submitted the design to get a permit from the town. This was completed even though we have chose not to put the sign up at this point.
The building required a new electrical service, but in order to install a new service we needed to bring the power to the building. This involved coordinating the installation of three-phase power up to our building. We had to purchase six telephone poles, the labor to install them and all of the electrical fittings and wire to accommodate this need.
After or during the installation of the new feed we had a three hundred amp three phase service installed in the building. Included in the service was a complete grounding network, new meter socket, and a new weather head pole.
At this point we had the building wired so each machine has its own service drop.
The next issue on the schedule was the incorporation of our name. CRANBERRY COUNTRY MACHINE & TOOL, INC. This is the point where we actually became an incorporated company in Massachusetts.
At this point we developed an accounting system using Quick Books ( E-mail Vincent McDermott, CMA, MSA for small business accounting services) .
We purchased our Domain Name www.ccmachinetool.com and began the construction of our web page. The page is nearly complete.
In order to secure customers the next item on the list of things to do was develop an effective marketing system. We found that a simple letter to a company describing our business was the most successful and most inexpensive.
This led our company into the development of our letterhead and the development of our logo CCM&T.
We applied for a permit to build a small office in the building. The 10 x 10 office allowed me to move my office out of the house and near the work area.
The next item on the list was the installation of an all copper compressed air loop, through out the building, and the purchase of a small air compressor.
We began taking orders locally in the summer of 1999, and have had a reasonable amount of success since we opened. Who would have ever imagined that the simple kindness, of an elderly gentleman who noticed the interest of a young boy would have ever had such an impact to begin a life long pursuit of a dream? Thank you Mr. Braley, Thank you Mom and Dad, Thank you Nonie, Thank you Uncle Vin, Thank you Electroswitch, Thank you Meg.